Terugblik: Beginnings 2023
Na een maand werken en onderzoeken bij Frascati Producties, hebben makers Toni Blackwell (ATD 2021) en Catoo Lustig (ATD 2023) van donderdag 21 t/m zaterdag 23 september een eerste proeve van hun werk getoond tijdens Beginnings 2023.
Toni Blackwell: Toni Blackwell's: MEDUSA
Toni Blackwell studeerde in 2021 af aan de opleiding Theaterdocent in Amsterdam. Haar werk gaat over maatschappelijke thema's die haar persoonlijk raken en is provocerend- educatief. Toni geeft op verschillende plekken les, maakt performances, schrijft, regisseert en was regie-assistent bij het bejubelde stuk The Story of Travis. Voor het concept van de voorstelling Voor Sletten die zijn verkracht won Toni De Troffel, de jaarlijkse stimuleringsprijs van Festival Cement. Tijdens Under Construction afgelopen seizoen in Frascati, heeft zij deze voorstelling doorontwikkeld.
Toni Blackwell heeft de afgelopen maand de hedendaagse vertaling van de Griekse mythologie over Medusa naar haar eigen hand gezet, om een tragisch verhaal over onrecht, onschuld en identiteit te vertellen. Met een performance van actrice Nora El Koussour, welke eerder in Emma Watson – The Play van Caro Derkx / Frascati Producties en de film Layla M speelde.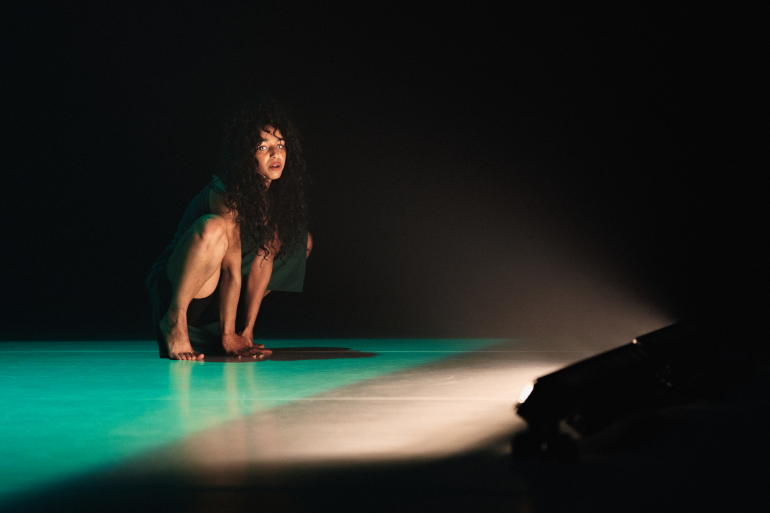 Scenebeeld: Milagro Elstak
Catoo Lustig: BEAUTYBOMB
Catoo Lustig studeerde afgelopen juni af als regisseur aan de Academie voor Theater en Dans te Amsterdam. Afgelopen seizoen stond ze in Frascati met haar voorstelling SENSE. Zij wil vanuit compassie met de mens de complexiteit en veelzijdigheid van zaken tonen. Catoo liep stage bij Ola Mafaalani en Adelheid Roosen (Female Economy), Belle van Heerikhuizen (Orkater) en Toneelschuur Producties. Zij geeft workshops regie, is deel van de auditiecommissie aan de regieopleiding Academie voor Theater en Dans en werkt als eindregisseur voor andere ambitieuze makers.
Catoo Lustig heeft de afgelopen periode gewerkt aan BEAUTYBOMB, met uitgangspunt de bewerking van Bombsong van Thea Dorn. BEAUTYBOMB vertelt het verhaal van een vrouw, gespeeld door actrice Damaris de Jong, die het leven en de zin ervan bevraagt. Damaris speelde hierin de verschillende stadia van een 'girl failure.' Uiteindelijk neemt ze een besluit en maakt ze van haar failure een bloody succesverhaal.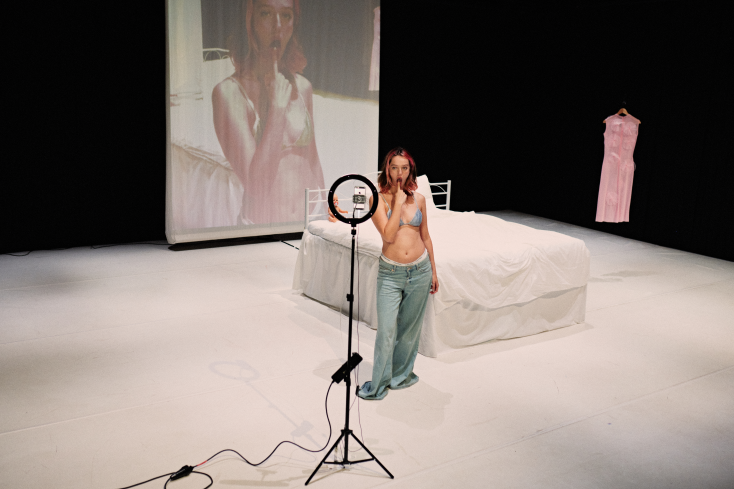 Scenebeeld: Milagro Elstak