Julian Hetzel laat bezoekers huilen met SPAfrica triple bill
Donderdag 16 t/m vrijdag 18 november is SPAfrica bij ons te zien. Wat als empathie de bestaande machtsstructuren niet opheft of verandert, maar juist bestaande privileges versterkt? Deze voorstelling is deel van een triple bill van Studio Julian Hetzel. Deze triple bill bestaan verder uit een kunstinstallatie en twee verdiepende reading sessions. Julian is oud-maker van Frascati Producties, en toonde eerder bij ons onder andere Mount Average (2018), SELF (2019) en All Inclusive (2020).
SPAfrica
De voorstelling onderzoekt het verband tussen racisme en kapitalisme en snijdt hiervoor de onderwerpen extractivisme en empathie aan. Het project combineert de exploitatie van natuurlijke en emotionele hulpbronnen om de neoliberale strategieën bloot te leggen in de zoektocht naar alternatieve grondstoffen.
In de pers
"In de slimme performance SPAfrica wordt de empathie van een wit publiek onder de loep gelegd." ★★★★ de Volkskrant

"Absurde tranenvranger laadt de toeschouwer met ernstige verantwoordelijkheid." Theaterkrant, Keuze van de Criticus
Tear Farm
Voor en na de voorstelling is er de gelegenheid om de Tear Farm installatie te bezoeken. Word volun-tear! Huil en zwelg in empathie om het op deze manier te laten regenen via een vloeibare kunstinstallatie in Kaapstad. Als beloning krijgen deelnemers hun eigen flesje SPAfrica, 's werelds eerste empathiedrank. De installatie brengt de onderwerpen die worden aangesneden in SPAfrica tot leven.
The Elephant in the Room reading sessions
17 en 18 november is er ook de mogelijkheid om dieper in te gaan op de thematiek van SPAfrica door middel van The Elephant in the Room reading sessions met Teresa Borasino, een Peruaanse kunstenares die focust op de grenzen tussen kunst en activisme, en Nederlands-Surinaamse acteur, regisseur, (theater)schrijver en dramaturg Maarten van Hinte. Tijdens de sessions worden teksten over extractivisme besproken, en worden discussies over de teksten begeleid door de hosts.
Deze triple bill is uniek in de SPAfrica tour en alleen te beleven bij ons, mis hem dus niet.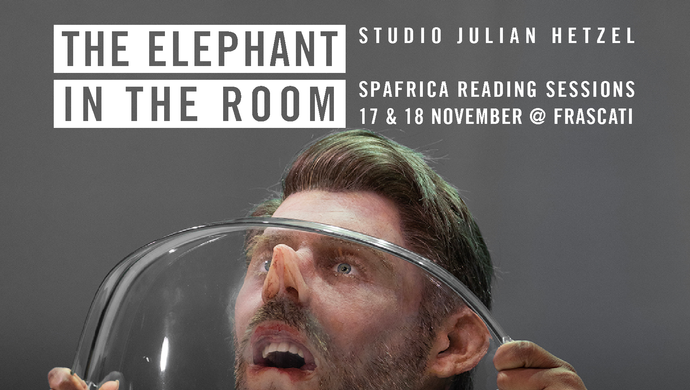 Studio Julian Hetzel // Het Verbond
Fri 17 Nov '23
and
Sat 18 Nov '23