Mallika Teneja in Frascati with Peformance and Workshop
Op dinsdag 17 en woensdag 18 oktober staat de Indiase theatermaker Mallika Taneja in Frascati, voor de Nederlandse première van Do You Know This Song (coproductie Frascati Producties). Op vrijdag 27 oktober geeft ze, samen met Laguna Collective, platformorganisatie voor humanitaire psychosociale hulpverlening, de workshop To walk into the song of grief.
Do You Know This Song is het tweede deel van een driedelige serie performances waarin vragen over verdriet, verlies en liefde elkaar doorkruisen. Het is een zoektocht naar stem, lied, ruimte en schoonheid. Vertrekkend vanuit een archief van herinneringen en verhalen over Indiase vrouwen die er nooit in geslaagd zijn hun innerlijke liederen vrijelijk te uiten, is Mallika op zoek naar een stem in zichzelf die hen kan vertegenwoordigen en bevrijden. Een collectieve stem die luid en onbevreesd zal zijn. Hoe klinkt dat nieuwe lied dat we vandaag allemaal nodig hebben?
Over Mallika Taneja
Mallika Taneja woont en werkt vanuit New Delhi, India. Door middel van performances, installaties en curatorschap onderzoekt ze vragen over gender, solidariteit, rust en herinnering. Ze is geïnteresseerd in het verkennen van de politieke mogelijkheden van een performatief ensemble en de rol die liederen spelen bij het achterlaten en verzamelen van sporen van mensen, plaatsen en dingen.
Workshop To walk into the song of grief
Aanvullend aan de performance Do you know this Song?, nodigt Frascati Mallika Taneja en Laguna Collective uit om een ​​workshop te organiseren waarin thema's als verdriet, rouw, stilte en zang centraal staan. Laguna Collective is een platform-organisatie waarbinnen internationale experts kennis en vaardigheden op het gebied van humanitaire psychosociale hulpverlening ontwikkelen en overdragen. Door de artistieke praktijk van Mallika en de psychosociale achtergrond van Laguna Collective te combineren, gaan ze in de workshop een theoretische, artistieke en fysieke dialoog aangaan.
De workshop is gratis toegankelijk, maar er zijn maar een beperkt aantal plaatsen beschikbaar via gratis online tickets. Deze zijn te bestellen via onze website. Deze avond maakt deel uit van Frascati's programmalijn De (on)vertelde stad waarin we samenwerking zoeken met instellingen buiten het theater, om dieper in te gaan op (on)vertelde verhalen van de stad.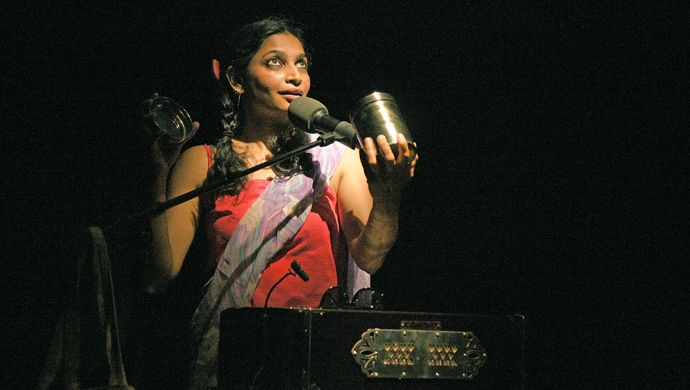 Mallika Taneja x Frascati x Laguna Collective // Het Verbond
Mallika Taneja (IN) in coproductie met Frascati Producties
Tue 17 Oct '23
and
Wed 18 Oct '23