Voorgesprek co-productie Cadela Força - Chapter I met Carolina Bianchi
Deze week beleeft de internationaal geprezen performance Cadela Força - Chapter I: The Bride And The Good Night, Cinderella haar Nederlandse première in Frascati. Op vrijdag 29 september is er voorafgaand een voorgesprek met o.a. Carolina Bianchi. Cadela Força - Chapter I is een productie van Carolina Bianchi y Cara de Cavalo & Metro Gestão Cultural in coproductie met Frascati Producties.
Cadela Força (Bitch Strength) is een drieluik rondom verhalen over vrouwenmoorden sinds de jaren '90, de problematiek van het documenteren van verkrachting en het broederschap tussen mannelijke cis-personen als onderdeel van een systeem dat geweld tegen vrouwen in stand houdt.
In het eerste deel zien wij Carolina Bianchi met een groep van 8 Braziliaanse performers (collectief Cara de Cavalo) in een duizelingwekkend fysieke performance rondom de tragische moord (en laatste performance) op de Italiaanse artieste Pippa Bacca. Want, wat gebeurt er wanneer iemand wél overleeft?
De wereldpremière was op donderdag 6 juli op Festival d'Avignon en werd bestempeld als één van de meest opmerkelijke performances van het prestigieuze internationale theaterfestival.
''This all-too-real performance single-handedly jolted Avignon alive over the first week of the festival, turning Bianchi — an unknown, Amsterdam-based artist — into a sensation at the event." The New York Times

"(...) a milestone in the history of the Festival d'Avignon (...) One thing is certain, no one leaves the room in the state in which they entered it." Le Monde
Cadela Força - Chapter I: The Bride And The Good Night, Cinderella is te zien in Frascati van donderdag 28 september (première) t/m zaterdag 30 september.
Voorgesprek: Cacophonic Practices - how to bond over differences
Op vrijdag 29 september 2023 om 15.00 modereert Francesca Lazzeri (dramaturg bij Frascati) een gesprek tussen Carolina Bianchi en dramaturg Carolina Mendonça. In de afgelopen jaren onderzochten beide kunstenaars hoe ze door middel van hun performance- en theaterwerk een dialoog over seksueel geweld in een private en publieke context kunnen aangaan. Vanuit een feministisch perspectief observeerden zij de sporen van persoonlijke en collectieve geweldservaringen in hun lichamen en in sociale interacties. Met hun werk proberen ze ondersteunende structuren en communicatiepraktijken voor de toekomst te bedenken die tegelijkertijd kwetsbaar, krachtgevend en fragiel zijn.
Tijdens het voorgesprek gaan wij dieper in op hun werk en de vragen die opkomen als we door middel van theater en performance onderwerpen als geweld aan de orde stellen.
Tickets voor het voorgesprek zijn EUR 0,-, maar moeten van te voren worden besteld via onze site in verband met het beperkt aantal plaatsen.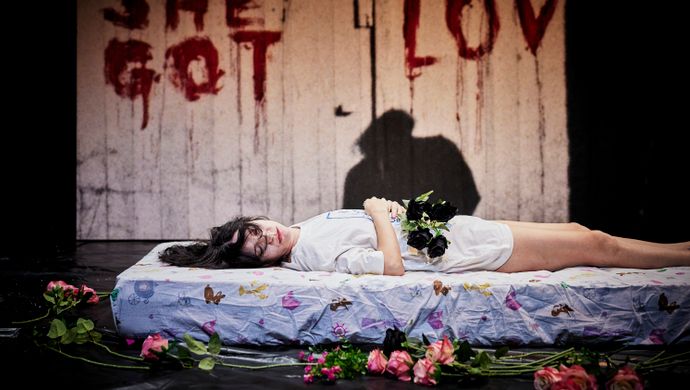 Carolina Bianchi y Cara de Cavalo & Metro Gestão Cultural in coproductie met Frascati Producties
Thu 28 Sep '23
-
Sat 30 Sep '23